 CONSCIOUS RETREATS MOROCCO

MIND BODY AND SOUL RETREATS
WELCOME TO MOROCCO
Morocco holds an immediate and captivating fascination to everyone who visits. Its richly diverse culture has been shaped by 3,000 years of history, with the Atlantic Ocean to the west, the Mediterranean countries to the east, Europe to the north and sub-Saharan Africa to the south.
From the beauty of the culture to delicious and exotic Moroccan meals, to idyllic surf spots, to wonderful conditions for yoga – Morocco has it all.
At our retreats, we combine European quality and safety standards with North-African hospitality and familiarity with the country in order to offer you an unforgettable experience.
ABOUT CONSCIOUS RETREATS

"The key to growth is introduction of higher dimensions of consciousness into our awareness"
This 7-day Yoga and Mindset group retreat in Morocco is designed to help you slow down, recharge your batteries and create lasting change in your life. We offer a unique combination of Yoga and Mindset Coaching in order to support you on all levels – physically, spiritually and mentally.
Find balance through Holistic Yoga and meditation, work on all areas of your life during Mindset Coaching sessions and connect with a small group of like-minded people. Morocco's beautiful nature offers the perfect surroundings for your exploration of mind, body and soul.
DESCRIPTION
During our mindfully curated Holistic Yoga sessions, you will be able to reconnect with your body and soul and let go of physical and mental tension. (Left out Hatha, Vinyasa, Yin specification) Specific meditations and breathing exercises will allow you to ground, recharge your batteries and let go of worries and anxiety. Our sessions are suited for beginners as well as advanced Yogis alike and our experienced teachers will support and guide you along the way.
Through Mindset Coaching sessions you will get the opportunity to examine your life, reflect and figure out what is working and what is not. We use a coaching framework that cuts through limiting beliefs and helps temper your inner critic, usually resistant to any major change. We'll let go of negative habits that are no longer serving you and adopt healthy new ones that will lead you on a path to success. No matter which area of your life you want to work on – relationships, business or health – you will leave Morocco with a clearer mind, in control and with actionable steps that will empower you to create positive change in your life.
As an added bonus, you will find deep relaxation and healing through traditional Moroccan wellness treatments that will complement your journey to a more balanced self.
WHO IS IT FOR?
Conscious Retreats Morocco is ideal for anyone who needs to slow down, recharge and break through their own limitations. Executives, entrepreneurs, busy moms, students, business owners or anyone feeling stressed, stuck and looking for a way to gain more balance, clarity and energy will be sure to experience a week of pure transformation.
We are very passionate about what we do and our mission is to create long-lasting positive change in your life. This will only be the beginning of your journey, not the end. You'll head home more balanced, inspired and equipped with the tools you need to continue to grow and deal with any challenges that come up.
FEATURES
14 hours Coaching workshops
7 Holistic Yoga classes
7 meditation classes
7 Yin Yoga classes
7 Nights accommodation
3 healthy meals per day
2 excursions*
Airport pick-up
BENEFITS
Find calm, reduce stress and recharge
Gain flexibility, body awareness and strength
Connect back with your inner self
Nourish yourself with healthy food
Gain clarity and self-awareness
Remove limiting beliefs and mental obstacles
Overcome fears and traumatic emotional events
Learn strategies to manage your life
Connect with likeminded people
Explore Morocco's beautiful nature and culture
$2000 USD
HOLISTIC YOGA
Our approach to Yoga is that there is no "one size fits all". That's why our mission is to offer individual guidance in every Yoga class – for beginners and advanced students alike. Our Yoga sessions are skillfully crafted in order for you to find calm, strengthen and stretch. Each class includes a specific meditation and breathing technique that complements the asana part of the practice. Morning sessions are a mix of Hatha and Vinyasa Yoga, offering a gentle start to the day. Evening classes are restorative Yin Yoga in order to relax and calm down. Should you wish to immerse yourself in even more Yoga, our teachers will be happy to practice one-on-one with you.
COACHING
Coaching is one of the most valuable tools you can have. It's an investment in yourself, and it can produce some of the highest returns. To be able to create a remarkable life you have to acquire a winning mindset. You need a method and a way to consistently develop and deliver the outcomes that you want. During more than 14 hours of coaching workshops, we will create the space where you can explore your passion and build a strong foundation for radical change. We'll use proven exercises and techniques to reveal your values, key personality traits, and limiting beliefs.
HEALTHY FOOD
We believe that a healthy outside starts from the inside. That's why nutritious delicious food is an integral part of our retreat. Moroccan cuisine is known for its fresh ingredients, the use of different herbs and exotic spices and its focus on whole food ingredients instead of prepackaged food. During your stay, you will get to taste aromatic vegetable dishes, traditional "tajines" and aromatic couscous, flavourful salads, delicate pastries with a healthy twist, fresh juices and – of course – Moroccan's favourite drink: mint tea.
ACCOMMODATION
Our retreat will take place at stunning and authentic riads and villas in Morocco. It combines Moroccan charm and European standards, making it the perfect place for your Yoga and Mindset Coaching escape. Choose among beautifully designed single and shared bedrooms, both extremely comfortable and tranquil. Free tea and coffee, as well as water and fruit, are always available and our friendly host team will make sure that you feel right at home.
EXCURSIONS
In order for you to experience Morocco's unique culture and diverse nature, our retreat includes trips to the area's most beautiful spots. Try out surfing at Morocco's world-class surf spots, hike through the beautiful hinterlands or explore vibrant and colourful markets. Dive into the country's history by visiting stunning mosques and ancient ruins, take a break in one of the charming cafés or shop an amazing variety of products in the "souks". Our professional guides and instructors will make sure you get to know the "real" Morocco, be safe and have a lot of fun along the way! 7 Days Conscious Living
Rethink the way you live and develop the growth mindset that you need in order to live an extraordinary life.
Marrakech | COMING SOON | 10/10 spots available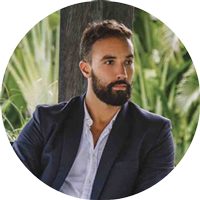 DRIS MI 
Mindset and Performance Coach
Dris is a health-conscious surfer and ocean and nature lover. He is Certified NLP Master Practitioner Coach and Social and Emotional intelligence coach.
Before his devotion to coaching, Dris was an excellent Project Manager and a talented Art Director. He worked in top agencies for over 10 years and led the way in innovating new business solutions.
MIRIAM YOUNSI
Holistic Yoga Teacher
Miriam is a certified Yoga teacher registered with Yoga Alliance. She is dedicated to helping people find more balance and happiness through Holistic Yoga, meditation and pranayama.
Miriam takes into account her students' Ayurvedic constitution, health concerns, mental states, personal issues and current life situation in order to create personalized Yoga sequences that are right for each individual.
GUEST EXPERTS
We are very proud to have amazingly inspiring guest teachers and health experts at our retreat, who share their knowledge and bring diverse influences into our space. Get inspired by uniquely crafted Yoga lessons as well as talks and workshops in the field of Yoga and Ayurveda, health and personal development and fitness. Our teachers and experts are happy to answer any questions you might have, engage in lively discussions and also offer private sessions for those who are interested in diving deeper into a certain topic.